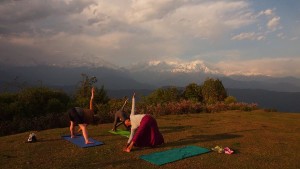 Himalayan Yoga Trek
2 nights 3 days trekking in the holy Annapurna Mountain area
Departing from Pokhara Nepal. A single person is 50.00USD per day.
2 or more people 40.00USD per day. 5 or more people is 25.00USD per day. More details below.

Description
Discover the Himalaya with an experienced yoga teacher and mountain guide. Through the jungle, over the hill, summit the peak, cross the river. Connect with the epic beauty of Nepal
while aligning with your body, mind and spirit.
Combine your yoga classes with your trekking and experience the ancient culture of the Himalaya! We partner with
Adam Tribe Mountain Inn
to bring you the highest quality authentic off the track experience deep in the heart of the Jungle, where life thrives and adventure begins.
Our package includes:
Yoga Teacher
Trekking Guide
Route Options
yoga mat
What you need to bring:
good walking shoes
appropriate clothing for hiking
appropriate clothing for yoga
water bottle and snacks
backpack
A single person is 50.00USD per day
2 or more people 40.00USD per day
5 or more people is 25.00USD per day
food, transport and accommodation are NOT included.
DESIGN YOUR OWN YOGA TREK BY CONTACTING US HERE